BAND BIO
A diverse repertoire of dance, pop and Latin music guaranteed to get everyone dancing.
"XSTATIC" has been performing at private and corporate events in Auckland and throughout the North Island for the past 10 years with a diverse repertoire of dance, pop and Latin music guaranteed to get everyone dancing.
"XSTATIC"  is available as a 3, or 4 piece band, making it possible to fit most budgets and venue requirements (PLEASE LET US KNOW WHAT SIZE BAND YOU REQUIRE IF YOU ARE SEEKING A QUOTE).
The band "XSTATIC" are:
MARK RIMINGTON(guitar, vocals and sequencing) has been an active professional musician for over 20 years in bands and on stage in theatre starring as "Rocky" in "The Rocky Horror Show". Mark has also worked in bands overseas in the U.K, South Africa, Australia and the South Pacific Region. Mark is considered one of the top musical sequencers in the business and when you hear the music you will know why!
LINDA REDWOOD(vocals) has been a professional singer for 15 years but her early grounding was through musical theatre. Linda has sung with bands including Fatal Attraction, Absolutely and the Sugarbabes and has worked as a studio session singer. She is considered by many to be one of the best female vocalists in Auckland.
HOLLY DUNN(vocals) is a great asset to the band. Holly is originally from Leeds in the U.K.
She has had a varied musical background which includes opera and jazz. After moving to N.Z she joined the band Pulse and performed regularly at Sky City and for many private functions before joining the Xstatic team.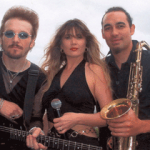 XSTATIC uses the talents of other well respected Auckland Musicians when required as a four piece and these include:
KELLY KAHUKIWA(percussion and tenor sax).
BRENT TURNER(keyboard, alto sax and vocals).
ANTHONY GREY (Keyboards/Vocals)
Many large corporations have chosen "MARK AND LINDA" and "XSTATIC" for their entertainment requirements including: Citibank, Harveys, Westpac Trust, Motorola, Shiseido, Clear and Countryfoods to name a few and many couples have also chosen them to help celebrate on their special day.