BAND BIO
The Buskers sound is a mix of rock, funk, soul and pop
The Buskers are one of New Zealand's top covers bands led by highly reputed musician Danny McCrum. Danny has worked with and supported many music greats including Eric Clapton, Jeff Beck, John Mayer, Tommy Emmanuel, Jimmy Barnes, Bryan Ferry, Simple Minds and many more. He regularly performs all over New Zealand and internationally and has earned a reputation for his unwavering professionalism and commitment to quality.
Each musician has been handpicked by Danny and has extensive experience on stage and in the studio. The Buskers sound is a mix of rock, funk, soul and pop and their set covers a wide range of music, including songs by Stevie Wonder, Daft Punk, Bruno Mars, Michael Jackson, Prince, The Black Keys, Pharrell Williams, Kings of Leon, Jamiroquai, Beyonce, Ceelo Green, Queen, The Killers, David Bowie, The Weekend, Duffy, Bob Marley and many more.
Playing the songs as if they are their own, the band delivers an energetic, unique and lively show full of groove and spontaneity. The Buskers will be sure to give a memorable performance at your next event!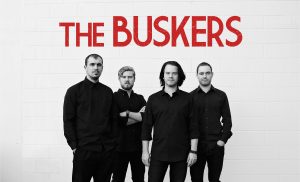 The Buskers have the following line-ups available:
Trio (guitar/vocals, bass & drums)
Quartet (guitar/vocals, bass, drums & keys or sax)
Quintet (guitar/vox, bass, drums, keys & sax)
Incorporating modern technology, classic sounds and top musicianship, The Buskers show is truely unique.  Right from the start the band were determined to offer a covers show that was a step up from the rest.  Their vision has been to perform a quality show of great songs played well.  To remain current and competitive, innovative and gritty, performing shows that surprise and delight their audiences.  The show has evolved over the years and now includes a good mix of current and classic songs and backing tracks to elevate the bands production. The Buskers aren't a pub band, The Buskers are much more than that and they take pride in being professional, easy to communicate with, reliable and committed to quality in all areas including the music, the shows presentation and their interaction with you and your guests.