BAND BIO
Presenting music from the 60's to the present day… classic hits to contemporary
Suzanne Lynch, Steve Larkins, Adrian Stuckey
Presenting music from the 60's to the present day… classic hits to contemporary… a show that can be tailored to suit your special occasion, wedding, dance, event, or corporate function.
Suzanne Lynch (vocals)
A leading iconic NZ entertainer. Suzanne Lynch started her singing career in the group 'The Chicks' and went on to work as a soloist winning the New Zealand Entertainer of the Year, and the Noel Agnew Excellence Award in 2004. In 2000 she was awarded an M.B.E in the Queens Honors List. Suzanne spent most of the 70's in England working with artists such as Neil Sedaka, Charles Aznavour, Cleo Lane, Lulu, Olivia Newton John, and Leo Sayer. For five years Suzanne lead the vocal group for Cat Stevens's band, working on four albums and two world tours. Today Suzanne is the vocal coach for the NZ Idol television show, and performs regular corporate functions. Bookings for her live show see Suzanne performing in Hong Kong, Bangkok and Sydney…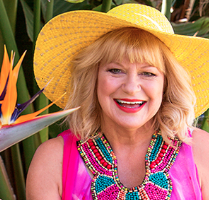 AWARDS:
NEBOA Entertainer of the year award
APRA Golden Disc award
Gold Disc Award for Success as a singer in NZ and overseas
Queens Honor Of 'M.N.Z.M'.
Rock'Ons award for International NZ star
Top female artist award
The Benny Award
Steve Larkins (piano/keyboards)
Steve (ex Dave Dobbyn, The Cats Away, Ray Columbus, Midge Marsden, and Ardijah) is well known in NZ as 'the piano man' playing and singing a mix of ballads, standards, and classic hits right up to today's latest chart toppers. Multi-talented Steve also performs a hilarious and energetic tribute to the late great Freddy Mercury, and performed this show at the David Tua fight and the Rugby Sevens.
Adrian Stuckey (guitar)
Adrian is Executive Producer of Auckland based studio 'Big Note Productions' and over the last ten years has written and produced award winning music for TV/ movies/jingles in New Zealand, Australia and Japan. As a guitarist Adrian plays a variety of styles including jazz, classical, Aboriginal, Calypso, rock, and pop. He performed for the Robbie Williams V.I.P party. Adrian was the Assistant Music Producer for NZ Idol TV.