BAND BIO
juggling, diabolo, straitjacket escape, magic, tall unicycle and live music
An action packed interactive comedy show featuring tall unicycle, precarious balancing acts, inexplicable illusions and pure jaw dropping skill.
Kim incorporates audience interaction, volunteer assistants, improvisation and inclusive comedy fun, all while wowing your audience with classic vaudeville and circus stunts.
Shows typically include a combination of juggling, diabolo, straitjacket escape, magic, tall unicycle, live music, and cigar box manipulation.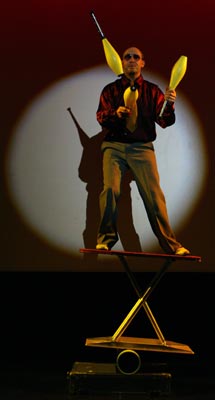 Kim Potter (Vinyl Burns) has been writing, performing and creating for over ten years, and has entertained audiences in Europe, Singapore, Canada, Korea, The UK and the United States, as well as Australia and at home in New Zealand.
Having worked as a professional musician for five years, Kim began working in comedy and circus, and is now internationally recognised as one of New Zealand's top variety entertainers. Kim can be found entertaining audiences around the globe, everywhere from the largest festivals to the most intimate venues. Kim will go pretty much anywhere to make you laugh.