BAND BIO
Violinist Extraordinaire - Classical, Latin, Jazz, Irish, Gypsy and Electric.
Described by the mayor of New Zealands capital city as 'a cultural icon', Elena is one of the countrys most talented and innovative violinists. Her ability to breathe new life into classical compositions by drawing on the musical and cultural traditions of New Zealands first people, Maori, defines both her work and her reputation.
A member of the Vector Wellington Orchestra Elena has developed a musical style that's energetic, funky, passionate and fun. So if you're looking for an 'outside the square' live performance that'll grab your audience and not let them go, book Elena.
Elena is classically trained, having trained in Wellington with the Schola Musica and then doing further training at Trinity College, London.
Elena's classical training means she is a versatile performer. Her music embraces classical, Latin, jazz, Irish, gypsy and electric, meaning she can adapt her performances to exactly match the style and tone of the event.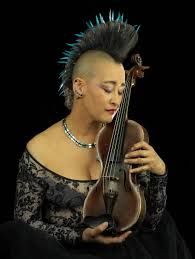 Elena's clients have asked her to play the violin hanging from a wire in the Westpac St James Theatre, in a swimming pool, in bus shelters, on mountains, in vineyards, in a waka, in the streets, in concert halls and in cathedrals, and Elena's enthusiasm for the sublime have added zeal and pizzazz for these special events. Clients include Queen Elizabeth 2nd, Our Prime Minister, Chinese Premier, Ambassadors, Ghetti Family, WOW, Lord of the Rings Premiers, David Beckham and was guest support for America.
Elena embraces opportunites to deliver her music in exciting and colourful ways, and with the release of her new album has emerged as one of New Zealand's premier artists.
Elena is available solo or with one of her ensembles