BAND BIO
Charming, approachable, friendly & fabulous
Felicity Frockaccino: Big, Bold and Beautiful.
Charming, approachable, friendly & fabulous are just a few of the words used to describe the self proclaimed "Man about Gown" talents of Felicity Frockaccino.
Felicity combines her talents with quick-witted, well-timed comedy and has delivered flawlessly edited performance tracks, coupled with her outstanding eMCeeing skills to adoring audiences and fans, throughout New Zealand & Australia, for the past ten years.
Known for her campy, fun drag aesthetic; Felicity is also a well known eMCee, having hosted many highly esteemed gigs including various Trivia & Bingo nights for many International brands such as Foodstuffs, Sydney Gay & Lesbian Mardi Gras, Coca Cola, TVNZ, and TV3,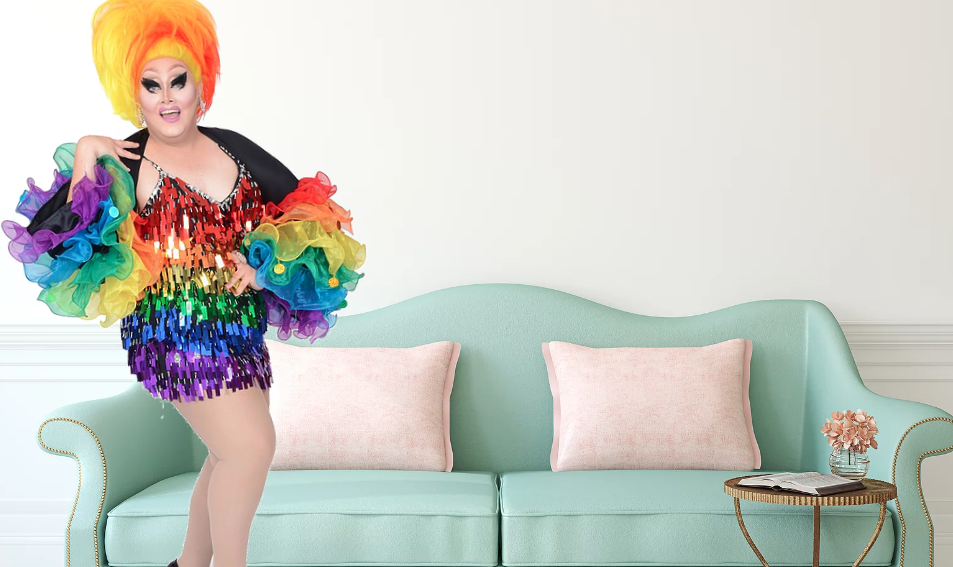 Felicity produced New Zealand's premier drag makeover group for Internationally recognised event "Cuba Street Carnival". After that success, Felicity was the official MC for the "Largest Wedding Dress Collection in the World" housed at the Museum of New Zealand – Te Papa O Tongawera.
Felicity is a class act in her own right. She is a successful producer, writer, comedian, choreographer, director and costume designer. Nothing is too hard or too diverse for this well rounded 'Jack and Jill of all trades' artiste.
A 100% commitment is put into all of her ongoing and one-off projects which include several weekly residencies at The Imperial Hotel, Tokio Hotel, Love Machine, Rush Bar, S&M's & Legends.
Felicity caters to suit your audience, be it a sit down dinner for 20 with a Bingo or Trivia night, or a corporate booking for colleagues or clients. Want her one woman show?.. A Priscilla experience?.. A Burlesque or Cabaret show?.. Felicity is also well known with many Burlesque and Circus performers and works in a trio of Drag Queens that can bring you show stopping performances of such movies as 'Dreamgirls', 'The Adventures Of Priscilla, Queen of the Desert', 'Burlesque' and 'Hairspray'.
*Standard hirage of Felicity consists of 2 songs/spots and 3 costume changes.
She can also MCee your event and meet and greet your clientele – The options truly are endless.
——————————————————–
THIS ARTIST DOES NOT HAVE A SOUND SYSTEM – Please advise DGM if you require additional audio equipment.
——————————————————–